Changing the Climate of Museum Theatre
This is the story of how one organization learned the value of using museum theatre as a creative vehicle to facilitate the comprehension of challenging topics, delivering tangible conservation actions to ignite and engage the next generation of ocean stewards.
The Client
A leader in ocean conservation and education, the Monterey Bay Aquarium seeks to inspire conservation of the ocean by offering a beautiful collection of exhibits and animals, delivering innovative programming to create a superlative guest experience, and acting as a trusted resource for scientific information and communication.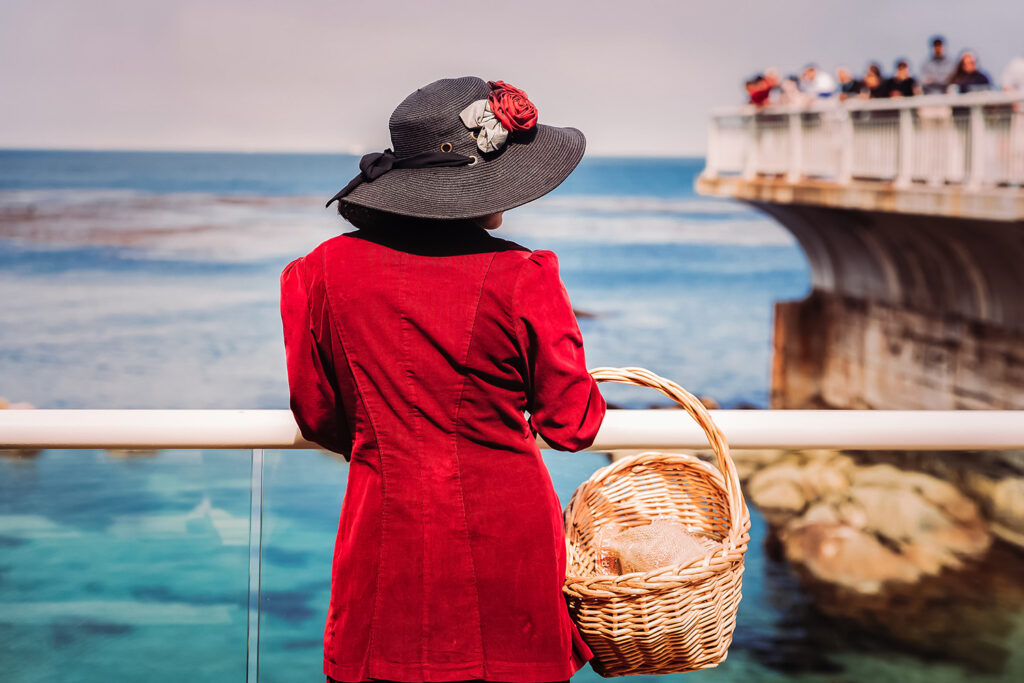 Objective
In 2009, the Monterey Bay Aquarium was awarded a generous grant from the National Oceanic and Atmospheric Administration (NOAA) to fund a comprehensive suite of informal educational activities to extend the exhibit experience of the nation's first live aquatic animal exhibition on climate change and the ocean. One of the programmatic cornerstones for this interpretive plan was the use of museum theatre to create engaging musicals to share actionable conservation messaging about climate change for a family audience.
My Role
Originally slated to run one 15-minute program five times a day for three months each summer for the duration of the three-year grant, shortly after being hired I convinced Aquarium leadership to expand that offering to include the creation of two additional climate-themed musicals that would add variety and value to the overall guest experience.
Leading a cross-departmental collaboration with internal staff and external creative contractors, I helped conduct a review of climate-related messaging at the Aquarium, and created a detailed plot outline, character analysis, and location audit as part of an informational toolkit for a comprehensive national RFP process to hire a composer. For both programs I also vetted all external talent, reviewed selections, helped write script and lyric revisions, designed costumes, set and props, recruited and collaborated with additional creative contractors to create elements of our shows, and introduced a new recruitment and hiring process to discover and hire actors from across the country. During production I assumed the role of Music Director as well as Supervisor for all seasonal actors, even stepping in to perform as an actor myself when needed.
Story Development
One of the most important goals of each production was to break down some of the more complex climate change messaging into an easily digestible theatrical piece that would appeal to audiences as young as toddler age, but would also contain moments that could be appreciated by adults. The first program I helped to create was "Enough Stuff," which featured three iconic animals who decide they are leaving their troubled habitats to move in with a child and teach him/her the impact over-consumption of material goods has on our climate. For this show, we used the physical and behavioral characteristics of each animal; a flamingo, a green sea turtle and a Magellanic penguin, as a baseline to create humorous and relatable characters combining physical comedy with catchy tunes to appeal to kids, as well as clever puns and lyrics designed for their adult caregivers.
The second production I worked on for the grant was a musical called "Think Big" which utilized gorgeous larger than life puppets made of recycled and repurposed materials designed by Chris Green Kinetics, that highlighted the importance of collective action to drive positive change. This program was created after an extensive evaluation conducted during the first year of the grant that showed that while our visitors understood individual actions that can be taken to help combat climate change, they felt it was more important to speak to the value of community working together to effect impactful change.
Over the course of six years I led the creation of two musicals for the grant; "Enough Stuff" and "Think Big", a musical revue titled "In the Swim," and an additional revision and revival of "Think Big" for a final year.
Challenges
The Aquarium first introduced the idea of using scripted theatrical programming to convey scientific information in the 90s as part of an outreach effort to local schools and migrant camps which then grew to include pieces performed at the Aquarium as well. The original shows were small and largely one person monologues performed in various locations around the museum. Slowly the Aquarium's theatre program expanded to include two small musicals, written in collaboration with a prominent Latinx theatrical company in the Bay area.
When I was hired in 2009, I was the only person on staff in the Guest Experience department with a traditional theatre background. I grew up doing music and theatre and have an undergraduate degree covering both those disciplines. While our department was on board with the efficacy of museum theatre to engage diverse audiences, there were other less than favourable opinions about the use of theatre in a scientific institution from other departments which caused several barriers and roadblocks to overcome. I was frequently told no, and encountered challenges that ranged from things like not being allowed to be in costume in the exhibits, to convincing HR each year that it was OK to use unconventional hiring practices to attract quality actor talent, and even to erase the idea of the word puppet as being something inferior or below the standards of the Aquarium.
However, with each challenge my team worked hard to creatively problem solve, while raising the caliber of the talent and the production value each year. With each success we gained trust within our museum, building up our institution as a leader in the museum theatre field allowing us to slowly change the climate of the Aquarium as a whole to appreciate and accept theatre as an effective way to share important stories.
Plot Twist
The evaluations that were conducted as part of the NOAA grant scored our climate-themed musicals as one of the most effective parts of the entire Aquarium's climate change initiative to educate the public about these important conservation issues. The positive feedback was a key factor in raising awareness and visibility of our theatrical programming with senior leadership, and allowed us to grow our budget and push the envelope a little more with each production.
At the end of the grant it was decided that museum theatre was a valuable educational tool, but that our senior leadership wasn't interested in musical performances anymore. Instead they challenged us to utilize our unique location and local resources to tell a different kind of story specific to the Aquarium. Unlike the first productions I worked on, this project was given a much larger budget and I collaborated with a large team involving almost every department at the Aquarium to create a Turning the Tide: The Story of Monterey Bay, a groundbreaking production that launched the summer of 2015 with actors performing on an outdoor stage, on custom made historic boats in the water, and in wetsuits and costume pieces diving underwater.
The creation and launch of Turning the Tide involved a steep learning curve coupled with an enormous amount of creative problem solving, but it resulted in a tremendous level of support and praise from within the organization, our diverse local community, and from the thousands of visitors who attended the program.
Benefit
The Aquarium learned how museum theatre can be a powerful communication tool to share important stories and messages to educate diverse audiences in new and sometimes unexpected ways.
From the Turning The Tide Evaluation:
"It was an excellent use of our time. I think because the message came through very clear, and I think will stay with us, it will resonate with us a lot longer than if I read that on a wall."
From Enough Stuff Evaluation:
"I thought it had a great message for adults and it's never too early to introduce children to that concept and … I know the kids had a great time. They loved the costumes and the way the people were singing and presenting it. I think that was, to them, one of the highlights of our trip. [female, 63]"
Epilogue
Over the course of ten years and five major productions, as well as the creation and revision of several smaller theatrical programs, I helped one of the most trusted and well respected museums in the world discover how powerful museum theatre can be as a storytelling method to educate and engage visitors. As a result, our program gained the respect and oversight from senior leadership, allowing our theatrical budget to grow from less than ten thousand dollars to almost half a million in under a decade, reaching over a million visitors of all ages from around the globe.